Where to store your files and information
It's important you safely and securely manage your files. Based on the type of information you are working with, it's essential that you select an appropriate storage location that meets your needs, as well as UQ's and regulatory compliance requirements.  
Recommended UQ supported storage platforms for staff include:  
Network (Shared) Drives. These drives can be seen by all staff members in a work group who have access to the shared folders. 
Below provides a general overview of which common UQ storage solutions are best for different types of documents.  
Working documents

E.g. personal work notes, early draft documents

Shared documents

E.g. informal reports and papers, local standard operating procedures

Network (shared) drives
SharePoint
AARNET CloudStor
Microsoft OneDrive

Research data

E.g. raw datasets, data that needs to be processed/cleaned/analysed/etc.

Research Data Manager (UQ RDM)

Records

High risk, high value information that needs to be retained

TRIM
SharePoint
Some areas may also use specific approved content management systems (e.g. PracticeEvolve for legal records). 
Note that you/your area may have specific data storage requirements; in this instance talk to your local IT Support for guidance.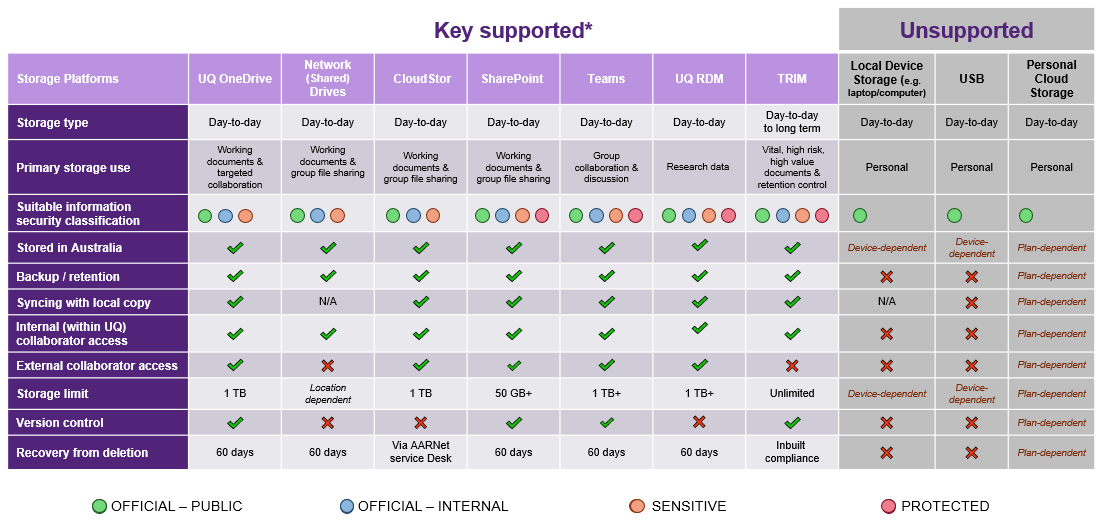 *These are key systems used at UQ. There are other information storage systems not included in this table which may be appropriate dependent on the sutiation.
For a text-based accessible version of this infographic, please click here. 
Note that for SENSITIVE and PROTECTED data, encryption and/or other controls may be required. Please peruse our 'What is the Data Handling Procedure' infographic or refer to UQ's Data Handling Procedure.